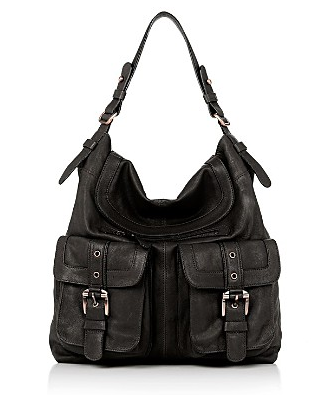 There are always times when we need our man to hold on to our bags.  Men usually look very uncomfortable holding their woman's girly bag.  Sometimes we also observe celebrities also carry their ladies' bags.
This Andrew Marc Architect Tessa Hobo displays a utilitarian style with its two front pockets.  The bag feels somewhat masculine because of it's style. Therefore, your man would probably not mind holding it for you. Obviously, that reasoning should not be your only consideration to buy a bag.
Aside from the casual and easy look, this Andrew Marc bag is also hip and young looking. You can surely use this for work or just for running errands.  It can be your all purpose bag.
I am a fan of Andrew Marc leather jackets and I'm sure the leather quality of this bag is also as good as their jackets.
Buy from Bloomingdale's for $450