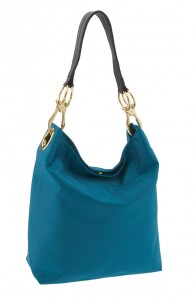 I just purchased this bag recently. My excuse was I needed a non leather bag for a ski trip. My friends say that I can always come up with so many excuses to justify my unnecessary purchases. However, I believe that this one purchase was absolutely necessary
I was looking for a bag which would be able to withstand water. Obviously, I was looking for a non-leather bag.  Since I don't like anything that is not leather, it was a little bit challenging to find something that I liked.
At first, I was considering the Longchamp Le Pliage. Unfortunately, the lack of luster and the plastic zipper turned me off.  Then I found the JPK Paris bag on sale at Nordstrom.com.  I remembered that I wrote about JPK Paris bag a while ago and that it was pretty pricey for a nylon bag. Luckily, this particular color and size (seafoam maxi) is 50% off at Nordstrom.  I would not have bought it if it were full price.
The things that I love about this bag are: I can just throw it on the snow and it doesn't get wet. The color is bright and has some sheen to it. It has lots of pockets inside: 2 zippered and 2 snap closures, where the zippers are metal with gold tone. Last but not least, the chunky hardware adds glam to the bag.
If you are looking for a non-leather bag and you don't want to look like you are carrying a grocery bag, this bag is definitely for you.  Buy from Nordstrom for $96.90