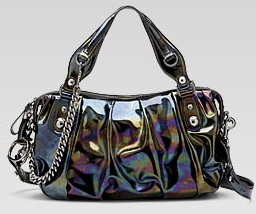 This bag reminds me a lot of the 70s, particularly of a Disco ball.  Even though I was not born until the late 70s I remember watching movies from that era.
This bag has so many colors depending from which angle you look at it, just like a disco ball.  I for one am not someone who would wear a bag this shiny and colorful, but Beyonce might, since her style is often exuberant.
They have this bag in four different finishes: Suede, leather, patent leather and guccissima leather. I must say that the patent leather version screams "look at me" the loudest.
You can pre-order this bag from Gucci for $1,790
Here is a disco ball picture for comparison.