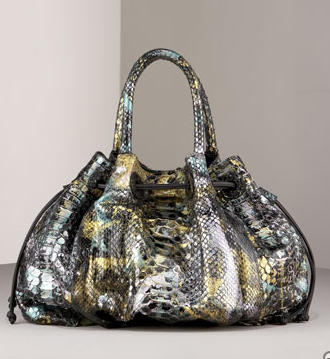 I got so excited when I saw this bag, I have never seen exotics done like this before. The python colors are really rich, it adds a lot of depth and dimension to the bag and the pearl effect just makes the bag pop even more.
There is nothing new with the shape and the drawstring.  It's pretty much a nice basic shaped bag, which I think is very wise because you don't want a busy design with this kind of material.  You don't even want to wear busy looking clothing with this bag. a plain, simple, and sleek outfit will definitely showcase the bag. This bag will definitely be the first thing that people notice if you were to wear it.
The only thing that bothers me about this bag is the size.  It only measures 7″H x 10″W x 6″D. I think it's kind of smallish and you won't be able to put a whole lot in it.
Pre-order from Neiman Marcus for $2,675