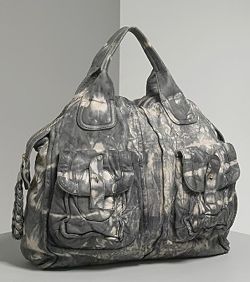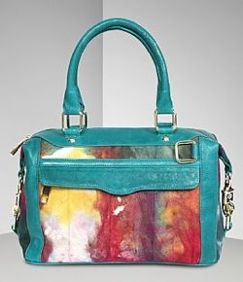 I can't see the beauty of tie dyed bags. To me they are like those 3D random dot stereogram pictures.  I just can't see it.  On the left is a Bulga bag that is made of leather.  I did not know that you can do "that" to leather.  Most tie dyes I've seen are applied to fabric.  All I can say is that it is such a cruel thing to do to beautiful leather.  I know Bulga always uses beautiful leather for their bags.  What a waste, don't you think? The bag on the right is a canvas tie-dyed Rebecca Minkoff bag.
To me, tie dyed bags look like hand me down bags that have been used a lot. Now, why would you spend money for something like that? The only suitable use that I can think of for the Bulga tie dyed bag is camouflage: In case you want to do some nature photography.  For the Morning After Mini tie dye I can't think of any good use. The bright colors makes it impossible to camouflage.  Now, don't get me wrong here, I love my Bulga and Rebecca Minkoff bags, it's just the tie dye that I don't get.
If you love tie dye you can buy the Bulga Mini Marquis bag and the Rebecca Minkoff Morning After Mini from Bloomingdale's, where they are on sale right now.