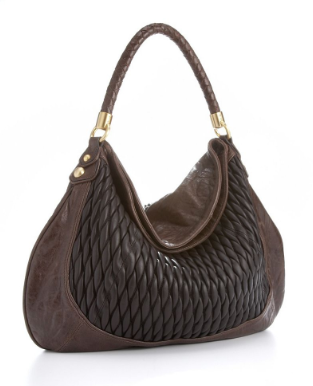 I'm a little embarrassed for admitting this but honestly I've never looked twice at Steve Madden bags. I'm trying not to sound like one of those pretentious ladies who only wear certain brands within a certain price range, but I had the impression that they don't have nice bags.  I guess they proved me wrong because this one is a beautiful looking bag.
I like how the quilts look so puffy and soft.  The distressed leather compliments the otherwise boring quilts. The weaved handle adds a more finished look and the minimal hardware provides just the right amount of shine and the fold over top gives the bag a softer look.
I was so curious about the quality of this bag, I went to my local Macy's over the weekend just to check out this bag. Unfortunately, they did not have it.  I was so disappointed that I could not give you information about the quality of this bag.  If this bag is of similar quality as B.Makowsky's bags (since they are in similar price range) then this proves that looking stylish is not about how much money you spend but about making smart choices.
Buy from Macy's for $170.99