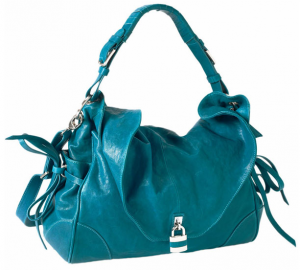 The name "Fortune Cookie" definitely suit this bag, because it really looks like one.  Despite of it's food-like appearance I think this bag looks pretty feminine.  I love the ties on the sides and the ruffle flap (the one thing that makes the bag looks like a fortune cookie).  This bag comes in many different colors.  Since this season is all about the turquoise, I chose to put up this picture.  This color will look great against a pair of clean white denim.
At first, I was skeptical about this bag.  Since it was priced under $200, I assumed that it would have a hideous interior.  By hideous interior I mean a crappy plastic zipper that is dreadfully attached to the lining.  However, I was pleasantly surprised when I saw the interior view.  It has a nice metal zipper with leather trim attach to the lining.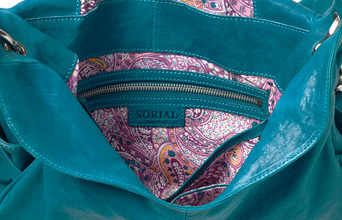 As for functionality, this bag has two kinds of straps; one shorter shoulder strap and one long removable strap that you can use to wear the bag cross body.  I personally think this bag is such a great deal. You can wait around for the sale but you might not get the color you want.
Buy it from Nordstrom for $198