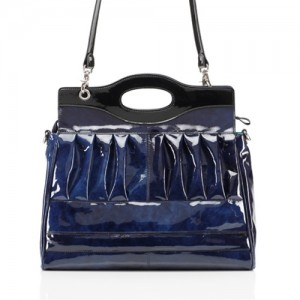 When it comes to bags, I don't limit myself to certain designers.  I love to check out new designers.  I like to have a bag that is unique and not easily recognizable from miles away. I prefer it when people don't know how much I spent for my bag, just because everybody and their mothers have it.
Recently I was invited by a new designer, Tara Sauvage, to check out her handbag line. The brand is Rocco e Dante. Though I have never heard about this brand, I was very excited to review something new.
The bag that I like the most from the collection is this Olivia bag. I love the deep rich blue color and if you look closely, the color is gradient blue not just flat blue.  The pleating on the upper half of the bag is also very interesting, it adds texture to the bag.  I haven't physically held the bag yet, so I cannot tell you anything about the quality.  However, I like what I see on-line.  You can see more pictures and buy it on Angel Handbags for $408 or visit Rocco e Dante official site for the complete collection.