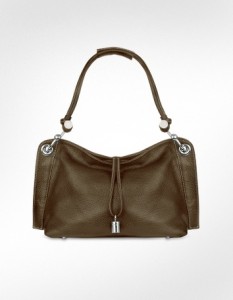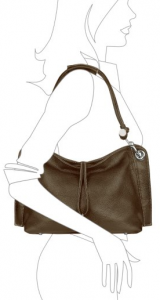 Buy from Forzieri for $574
Buti Charm Drop Dark Brown Pebble Italian Leather Hobo Bag reminds me of Celine Bittersweet. Mainly because of it's charm drop.  I like the Buti bag better compared to the Celine Bittersweet, because it has more interesting hardware and strap. Do you notice how the knots attach the strap to the rings? They add the much needed interest to a simple bag without sacrificing its elegance. However, I'm not a big fan of contrast stitching.  In my opinion, contrast stitching can cheapen the look of a bag if not done right.
The Buti bag ends just above the waist, which is really flattering for curvy women, while the Celine Bittersweet is more suitable for women with larger hips since the strap is shorter so it can easily be tucked under the arm.
Buy from Bloomingdale's for $980