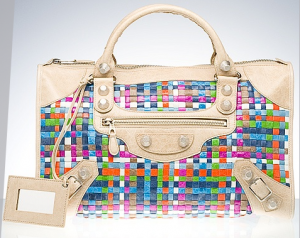 I never thought that I would be writing about this bag.  Seriously, this colorful woven Balenciaga work looks somewhat on the eccentric side.  It's definitely nothing like the Bottega woven bags.  Especially with all the bright colors.  Recently, I saw a woman wearing this exact bag.  I was so surprised that it actually look pretty decent and very appropriate for summer.
I think what makes this bag tolerable is the soft and slouchy Balenciaga leather. However, for $2,825 I don't want to get something that is only tolerable.  I always like to get the biggest bang for my buck.  For that kind of money I expect something astoningishly beautiful.
Here you can see how the bag looks in real life.  I like how the bag owner paired her bag with a neutral outfit. I think it's the only way not to make the bag look overwhelming.