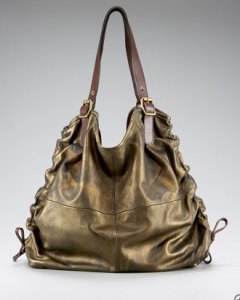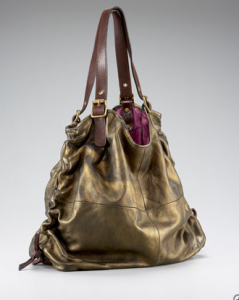 I just love, love, love this bag.  As you probably already know, I'm obsessed with slouchy bags right now.  I know for a fact that not all slouchy bags are created equal.  Some will fall nicely from your shoulder and some will just sit like ugly shapeless lumps.  I noticed that what sets the great slouchy bags apart from the bad slouchy bags is the bottom part of the bags.
A great slouchy bag has a proportionally wider bottom than the top, like this one. Furthermore, it has to have supple leather that will conform to the content of your bag.  The leather on this Tano bag looks supple from the zoomed in view. The side drawstring pulls reassure the suppleness by creating beautiful ruch instead of rigid and spiky folds.
Now, let's talk about the color.  It only comes in one color: bronze (in Neiman Marcus).  I think bronze is a great color, because it goes with everything and it is more interesting than just a plain old tan color.  If you look at it closely, the bronze color of this bag is not just a flat bronze, it is more like a distressed bronze, which I think adds character and richness to the bag.
Another great thing about this bag is the price, which is only $225. You don't even need to wait for it to go on sale. Buy from Neiman Marcus.