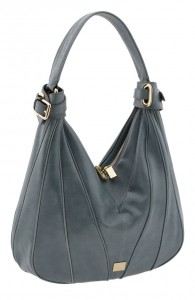 It's weird how I have been telling my girlfriends that I need a nice satchel and I ended up drooling over a hobo.  Right now I'm actually in a quest for a satchel, but I find this Kooba Dakota irresistible.  Every season there is always at least one bag from Kooba that I really like. In my opinion, their design is always stylish but not overly trendy.
When I'm shopping for clothes I'm always drawn to V necks because they are more flattering for a non super model body like mine. Therefore, I'm guessing that the V piping on the Kooba Dakota is what drew me to it. Not only that, I also love the buckles on the ends of the strap.  They give an interesting yet unusual accent to the bag.
This bag comes in four different colors, but I like this one the best (blue).  Even though it is described as blue, it has a lot of gray tone on it that makes this color very natural looking.