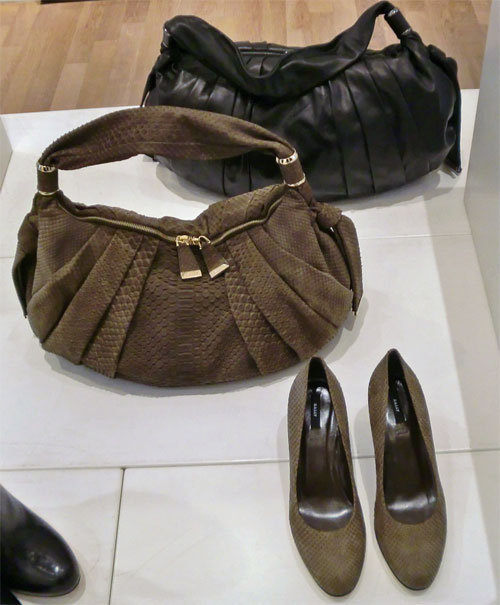 Yesterday, I went to P.C Hooftstraat in Amsterdam, which is supposedly the most expensive shopping street in the Netherlands. Naturally, I went to look for bags. Since stores in the Netherlands close very early (6pm), I could only go to some stores,  of which one  was Bally.
In that store, I found a gorgeous deep green suede python hobo. I love the suede finish python; in my opinion, it looks more subtle and luxurious than the regular shiny finish python.  I observe that more and more designers are producing bags with suede python.
The bag was so light and fell so beautifully on the shoulder. Two sets of double gold-tone rings connect the strap to the bag. Knots that end with metal tips decorate the sides of the bag. You can't see them from the picture but they're there and they played up the sides of the bag really nicely. The side of the bag is the one that you see first when you see someone wearing a hobo bag on her shoulder. That's why I think it is important that the sides show something attractive.
This bag is from the Fall 2009 collection.  It is priced €1500 Euros.