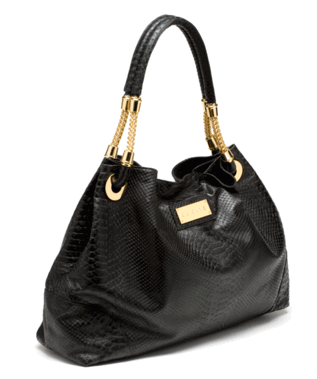 I don't understand why I can't find much information on this CC Skye Ashley Python bag.  Even the website that sells this bag does not provide detailed description about the bag.   In my opinion, a bag this beautiful should be talked about, stumbled upon, digged or tweeted all over the internet.   Am I wrong? Do I have such an unusual taste in bags?  I don't think so.
I love how the hardware and leather shoulder straps work together.  The grommets on the sides also add glam to the simple shaped bag. However,  I'm not so sure about the rectangular gold tone name plate in the middle since I'm not a big fan of bags that display their brand too prominently.  Seeing that it is such a beautiful bag and the size of the name plate is not huge, I can let this one slide.  Besides, it is not a brand that mall rats typically carry on their arms.
Now, on to the python.  I honestly could not tell if this bag is made of real python or embossed leather.  Judging by the price it could easily be embossed python. However, it might also be a reasonably priced real python.  Regardless of its material, I still think this is a beautiful bag.
Buy from Singer22 for $625