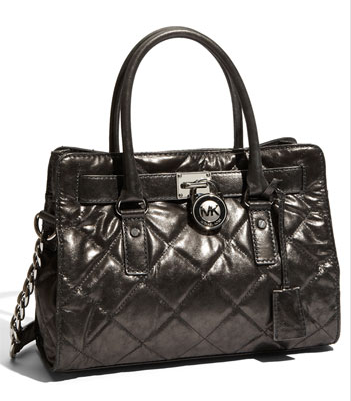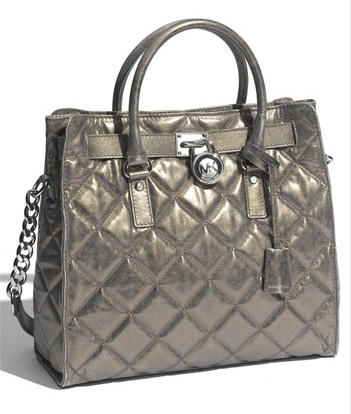 Last weekend I went to Nordstrom and browsed in the handbag department.  I saw this Michael Kors Hamilton bag but in the smaller size.  I tried it on both ways: using the shoulder strap and the handles.  Both ways looked great.  When I wear it on the shoulder, it looked a little bit more casual ( as casual as this kind of bag can be) and when I held it by the handles it looked more dressy.   This bag has a lot of attributes that does not make it casual, such as the combination of: the rigid rectangular shape, the lock, the handles and the quilted patent leather.  Even so, the addition of the combination chain leather shoulder strap makes the overall looks of the bag "easier".
I would like it even better if the shoulder strap is detachable, so that we can have more "looks" out of the bag, but leaving the shoulder strap hanging there is nice too.
There was one thing that bothered me when I was trying on some of these bags.  When I tried on the regular non patent quilted version, the handles were kind of hard to move, they were stuck in the upright position.  However, when I tried on the quilted patent version the handles were more flexible, they can naturally go down when I put the shoulder strap on.  I'm not sure whether I just happened to find an irregular bag or that is the way they make the non quilted version.
This bag comes in different sizes, the one that I was trying on was the smallest size (13″W x 9″H x 5″D).  In my opinion, petites are better off with this size, especially with such a structured bag like this.  Anything bigger will not be flattering for your figure, let the taller girls wear the bigger size.
You can buy it from Nordstrom for $318 (smaller size) $348 (bigger size)