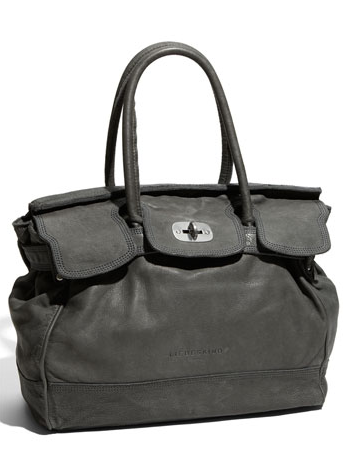 If Hermes Birkin and Mulberry Bayswater were to get married and have a child together, it would probably look like this bag.  The first time I saw this bag, I was drawn by the looks of its smooshy leather. I was right, when I touched it, all I could feel is just smoothness all over.  Although the leather is somewhat thick, it is also supple.  The thickness of the leather gives the bag a little bit of a tough look.
The Mia satchel is easier to open and close compared to the cumbersome Hermes Birkin.  You can tuck the flap underneath the belt like strap or just leave it hanging over the belt.  Judging by the look of it, this bag can be pretty versatile.  You can easily wear it to work or on casual outings.
I checked the Liebeskind official website, I must admit that they have impressive collections.  Unfortunately, I can't find many department stores or online stores that carry their bags (Amazon Germany carries several models). I wish they would make their bag more widely available especially since they have reasonable prices.
You can buy Mia satchel from Nordstrom for $354