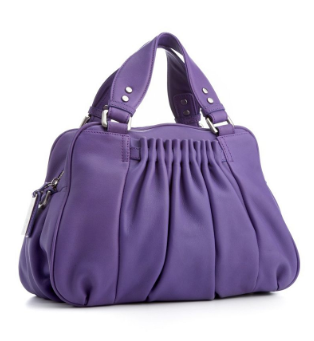 The first thing that drew me to this bag is the color.  Although I'm not much of a purple girl, this color just looks so pretty to me. The purple is so soft and the pleats just make everything look softer.  I must say that I like the look of the back of the bag better than the front.  The front does not have as many pleats and it has the metal logo.  This bag also comes with a wide adjustable shoulder strap, which means it would be comfortable on your shoulder.
I don't own any Kenneth Cole bag at the moment but if I there's one bag that I would like from them, it is this bag in this color.  This bag comes in 6 colors and measures 13″ W x 9″ H x 5″ D. Buy from Macy's for $275.99
This whole concept about high-end designers providing a cheaper line of their product and lower-end designers offering a better quality line is really giving me mixed brand perceptions.