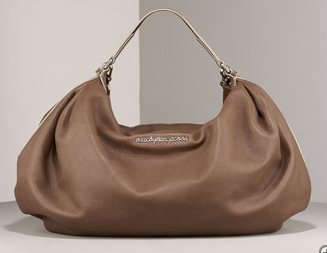 I have been frantically looking for a really slouchy and roomy hobo.  So far, my only candidate is the Marc by Marc Jacobs classic gathered hobo.  This bag measures 13 1/2″H x 23″W x 4″ D, and you can choose from chamois or pebble leather.
I like the soft leather and the way it drapes. I also like the detachable shoulder strap, I think it's a must for women with kids. The zip top is also a plus for me, not that I like to shake my bags upside down, but having a zipper just makes me feel safer.  I don't have to worry that my things will fall out accidentally.
As much as I like this bag, I still feel that it is lacking something. It lacks interesting details.  I get it that it is a simple and classic hobo, but it doesn't have to be too blah. A braided strap or a little bit of shiny hardware would definitely add some interesting details.  To sum up, if I can't find anything better, I think I'm going to get this one.
Buy it from Neiman Marcus for $438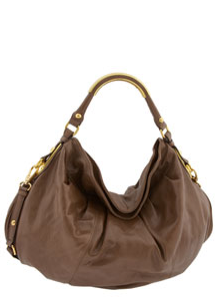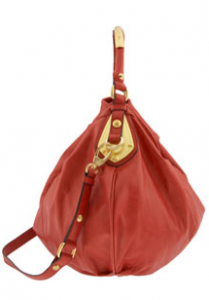 There is also the Steve Madden hobo.  I don't usually go for Steve Madden since a lot of their bags are made of pleather (remember my leather infatuation?). However, this one is leather.  The design is somewhat similar to the Marc Jacobs hobo, but the leather does not look as smooth and smooshy, wouldn't you agree?
One thing that I like about the Steve Madden hobo is that it has a little bit of hardware that I think dresses up this otherwise plain hobo, although, I'm not sure about the shoulder strap hardware.  I'm afraid that the shoulder strap won't be comfortable if you are carrying a heavy bag. I'm also not too crazy about the magnetic snap closure. But I know I'm probably just being paranoid, since I haven't lost anything because of the magnetic closure.
You can buy this from Nordstrom for $258
My personal choice between these two hobos would be the Marc by Marc Jacobs hobo, because of the better quality leather and the zip top.